SANTA MARIA NOVELLA - POLO DELLA CREATIVITA'
completamento masterplan atelier per artisti ed artigiani - completion of the masterplan of the atelier for artists and artisans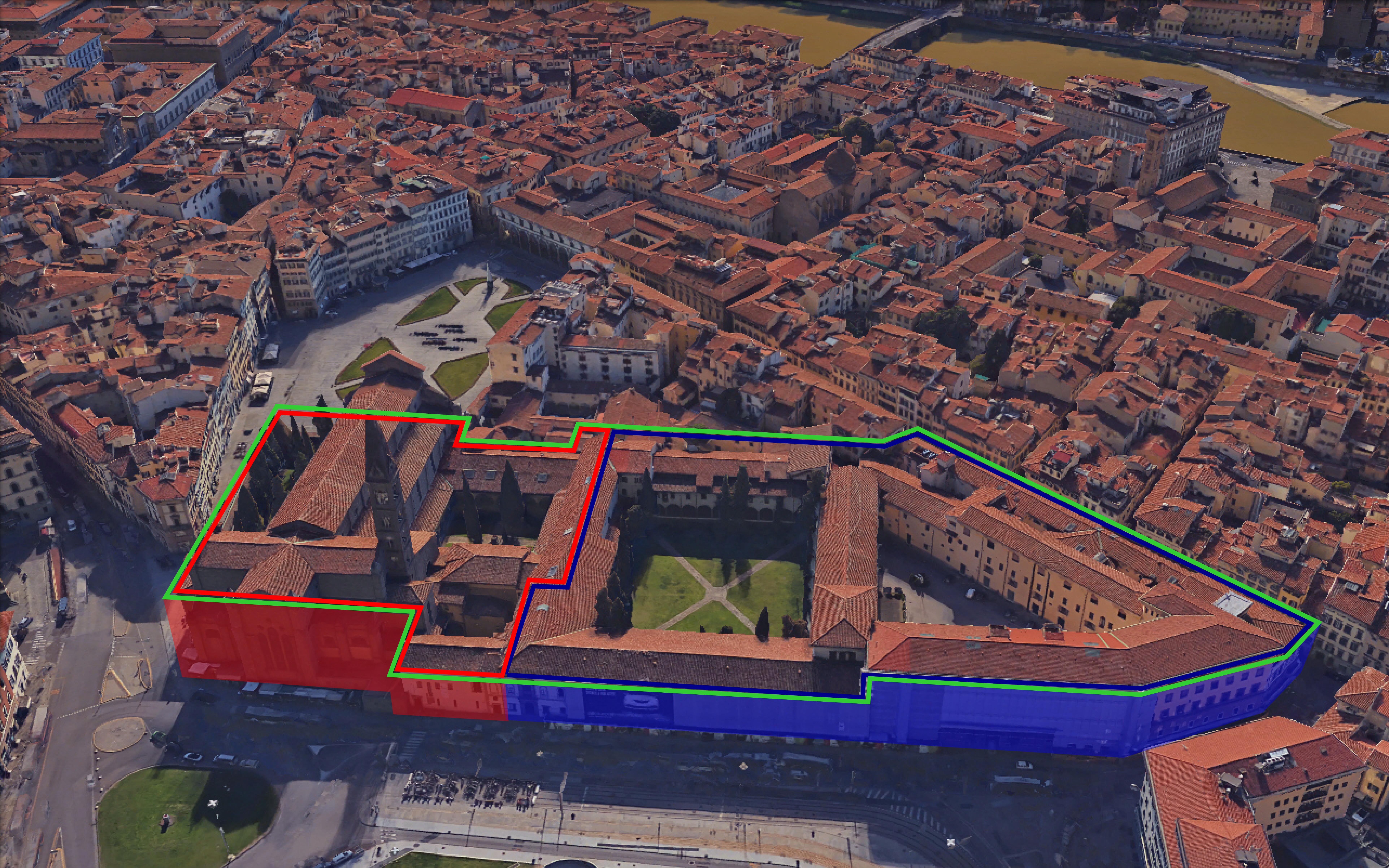 Tutta Firenze sembra essere colorata con una viola delicato,come vino diluito.
Every thing about Florence seems to be coloured with a mild violet, like diluted wine
Henry James
Il Complesso Monumentale di Santa Maria Novella compendia già oggi una delle realtà museali più vive della città: con una media di oltre 400.000 visitatori all'anno, si pone tra i grandi attrattori di flussi culturali cittadini. Il complesso risulta costituito dalla Basilica, dal Convento, risalenti al XIII secolo, e della porzione seicentesca del Monastero Nuovo, occupato fino al 2018 dalla scuola sottufficiali cittadina dell'Arma dei carabinieri.
The Monumental Complex of Santa Maria Novella is today one of the liveliest museums in the city and one of the most important attraction for tourism, with an average of over 400,000 visitors a year. The complex is composed of the Basilica, the Convent, dating back to the thirteenth century, and the seventeenth-century portion of the Monastero Novo (New Monastery), that until 2018 was occupied by the school of "non -commissioned officers' of the Carabinieri.
Valore deLl'intervento: € 400.000,00 - 2.000.000.00 / Value of the intervention: € 400.000,00 - 2.000.000.00
Durata dei lavori: 120-365 gg / Duration of works: 120-365 days
Tipologia Intervento: la ricomposizione morfologica originaria di uno dei quattro complessi religiosi che hanno contribuito allo sviluppo urbanistico della città medioevale, offre oggi nuove opportunità di rigenerazione urbana e di ulteriore connotazione culturale dell'eccezionale documento della memoria comunitaria fiorentina, aprendo l'architettura storica alla residenza e consentendo la fruizione pubblica del luogo storico anche attraverso l'esperienza abitativa. La Giunta Comunale ha approvato la nuova configurazione funzionale del complesso religioso, con particolare riferimento alle aree dismesse dalla funzione militare, prevedendone la seguente, definitiva articolazione:
A] Presidio di Sicurezza Arma dei Carabinieri;
B] Museo della Lingua Italiana;
C] Ampliamento del Museo di Santa Maria Novella;
D] Housing Sociale;
E] Uso istituzionale/Culturale dell'Amministrazione;
F] Polo della creatività/Atelier per Artisti;
G] Spazi per artigianato di qualità;
H] Alloggi per ospiti dell'amministrazione comunale;
I] Servizi per i cittadini (biblioteca/sala lettura/multimediali/caffetteria).
Intervention Typology: The project aims to restore the original composition of one of the fourreligious buildings, which in the past gave afundamental contribution to the urban development of the medieval city.Todaythe complex represents an exceptional document in the Florentine common memory andit couldoffernew opportunities for urban and cultural regeneration,throughout the opening of thehistorical architecture toa residential and publicuse.The Municipal City board approved the new functional configuration of the religious complex, with particular reference to the areas that in the past were used for military functions, providing for the following definitive articulation:
A) Arma dei Carabinieri Security guard
B) Museum of the Italian Language
C) Expansion of the museum of Santa Maria Novella
D) Social Housing
E) Institutional/cultural use of the Municipal Administration
F) Polo della Creatività/ atelier for Artists
G) Dedicated spaces for quality craftsmanship
H) Accommodation for the guests of the municipal administration
I) Other Services for the citizens (libraries, reading room, multimedia rooms, cafeteria...)
Attrattività: molto alta.
Attractiveness: very high
Notizie storico-artistiche: c
on un primo Accordo di Valorizzazione fra il Comune di Firenze e il Fondo Edifici di Culto, in vigore dal 2012, è stato possibile riunificare in un unico sistema di visita i primi due contesti monumentali, ricomponendo l'unità della Basilica e degli ambienti del convento adibiti a Museo, che fanno parte del nucleo originario del complesso religioso. Dall'aprile del 2017, a seguito della sottoscrizione di un Protocollo di Intesa, il Chiostro Grande, il Dormitorio settentrionale e la Cappella del Papa sono stati definitivamente inclusi nel percorso di vista del complesso monumentale, con l'ampliamento della superficie religiosa e museale fruibile pubblicamente dagli originari mq. 6.000 agli attuali mq. 13.500,00.
Nell'ottobre 2017 l'Amministrazione avviava il percorso per l'ampliamento del percorso musealecivico, con un ulteriore incremento della superficie dedicata alla fruizione museale di mq. 14.000,00,di cui 300
,
relativi alla Fototeca Storica del Comune, già ultimati.
Nel gennaio 2017 si stabilivano gli indirizzi di rigenerazione dell'intero Compendio Immobiliareindividuando "[…]
la compresenza, all'interno del compendio immobiliare monumentale dell'ex Convento di Santa Maria Novella, di quattro funzioni […]: confermando la presenza di una Stazione dei Carabinieri, quale presidio di sicurezza; sviluppando la vocazione museale già esistente; incrementando la funzione civica, […] attraverso l'utilizzo istituzionale e di rappresentanza a gestione diretta da parte dell'Amministrazione, […] per la celebrazione dei matrimoni civili e come casa comunale, sia prevedendo la realizzazione di strutture destinate all'accoglienza ed all'informazione turistica, secondo una modalità innovativa e tecnologicamente avanzata; avviando, infine, la valorizzazione patrimoniale, […] di un polo destinato all'alta formazione in materia di innovazione scientifica, tecnologica e culturale, ponendo al centro talento e studio, innovazione e creatività, ricerca e produzione, nell'ottica dell'integrazione con i progetti in corso d'opera nel centro cittadino [...]"
Nel Dicembre 2018 venivano stabiliti ulteriori indirizzi per valutare un parziale impegno delle architetture a favore di Housing Sociale nel centro storico cittadino.
Nel Dicembre 2020 è stato dato avvio alle previsioni funzionali definite dall'Amministrazione approvando lo studio di fattibilità tecnico economico del Museo della Lingua Italiana,quale primo nucleo di rigenerazione urbana e cultura delle architetture descritte.
Tale attività di programmazione strategica ed amministrativa ha delineato un orizzonte concreto di
rigenerazione urbana e cultura
le del complesso, confluito nella candidatura degli interventi descritti all'interno del Piano Nazionale Innovativo per la qualità dell'abitare del 2021 che ha dedica un'ampia porzione dell'ex Monastero Nuovo ad Edilizia Residenziale Sociale con la visione chiara dell'amministrazione di promuovere l'attrattività a tale fine del Centro Storico Fiorentino e di implementarne la qualità abitativa con una decisa integrazione nelle funzioni civiche e culturali estratte dalla visione complessiva (Archivio Alinari, Biblioteca Civica e Accoglienza).
Il recupero degli spazi conventuali liberati dalla funzione militare ha permesso di annettere al percorso di visita museale alcuni fra gli ambienti più significativi dell'antico complesso domenicano e, oggi, di potenziare i servizi ai visitatori del compendio museale esistente, implementando l'offerta culturale complessiva attraverso le nuove realtà del Museo della Lingua Italiana, della Fondazione Alinari per la Fotografia il cui archivio è stato recentemente acquistato dalla Regione Toscana.
Oggetto dell'intervento: Parte integrante del programma descritto ma esclusi dalle linee di finanziamento pubblico ad oggi individuate sono le seguenti funzioni che contribuiscono a completare le strategie di rigenerazione urbana del complesso.
STIMA SOMMARIA LOTTI DI INTERVENTO MASTERPLAN

LOTTI DI INTERVENTO

UBICAZIONE

SUP.

gg.

costo/mq

Stima

COSTO LOTTO

SHOW ROOM ARTIGIANI

P. TERRA

175

120

1.800,00

€ 216.000,00

300.000,00

ATELIER PER ARTISTI/KUNST HALLE

P. TERRA

550

240

1.700,00

€ 408.000,00

900.000,00

CAFFETTERIA

P. TERRA

200

120

2.000,00

€ 240.000,00

400.000,00

POLO DELLA CREATIVITA'

AMMEZZATO

1000

365

1.500,00

€ 547.500,00

1.700.000,00

OSPITI DELL'AMMINISTRAZIONE

P. III/IV

600

240

1.800,00

€ 432.000,00

1.000.000,00

AULA MAGNA

P.TERRA/I

800

365

2.200,00

€ 803.000,00

1.700.000,00

POLO CIVICO (MATRIMONI, EVENTI)

P. PRIMO

1100

365

1.900,00

€ 693.500,00

2.000.000,00

8.000.000,00
Historical and artistic information: With the agreement between the Municipality of Florence and the Fondo Edifici di Culto, signed in 2012 for the valorization of this area, it is now possible to visit the two monumental buildings of the Basilicatogether with the rooms of theconvent used as a museum. The two areas of the religious complex are now finally recomposed, as it was in origin,in one nucleus.
Since April 2017, after the signing of a Memorandum of Understanding, theChiostro Grande(Great Cloister), theDormitorio Settentrionale(Northern Dormitory) and theCappella del Papa(Pope's Chapel) have been definitively opened to the public, with the possibility of visitinga larger portion of the religious and the museum areas, so from the original sqm. 6,000the area open to the public has been extendedto square meters 13,500.00.
In October 2017, the Administration started a project for the expansion of the civic museum itinerary, with a further increase in the area dedicated to the museum use of approx. 14,000.00, of which 300, relating to the Fototeca Storica del Comune (Historical Photo Library of the Municipality), already completed.
In January 2017, the plan of regeneration of the entire Real Estate Complex were established by identifying:... the coexistence, within the monumental estate of the former Convent of Santa Maria Novella, offour functions [...]: confirming the presence of a Carabinieri station, as a security guard; developing the museum area; incrementing the civic function, [...] dedicating the spaces toan institutional use, directly managed by the municipal Administration, [...] for the celebration of civil marriages and as a municipal house in general, and providing for the construction of structures dedicated totourist information, using innovative and advanced technology; finally by launching the cultural heritage anhacement […] of a pole intended for higher education in the field of scientific, technological and cultural innovation, focusing on talent and study, innovation and creativity, research and production, in compliance with the other projects in the city center...
In December 2018, further guidelines were established to partially use the structure as Social Housing in the historic city center. In December 2020, the Administration approved a first technical-economic feasibility studyfor the Museum of the Italian Language. Later, the urban and cultural regeneration activity carried out on the building, was included in the Piano Nazionale innovativo per la qualità dell'abitare 2021(Innovative National Plan for the quality of living 2021, actually an investment plan, included by the National Recovery and Resilience Plan), which has dedicated many funds to the former Monastero Novo. This has been redeveloped in residential and social housing, in line with the administration's desire to increase the attractiveness of the historic center and to implement the quality of living, integrating civic and cultural functions in the same space. The recovery of the convent spaces, previously dedicated to the military function, made it possible to connect the museum area to the most significant rooms of the ancient Dominican structure. Today the activities dedicated to visitors are implemented through a new offering as the Museum of the Italian Language, Alinari Foundation for Photography, whose archive was recently purchased by the Tuscany Region.
Intervention subject: Seems an important portion of the described program remains excluded from the public funding lines, we can identify the following interventions to complete the urban regeneration strategies of the complex:
MASTERPLAN: ESTIMATE SUMMARY ON THE INTERVENTION LOTS
INTERVENTION

LOTS

LOCATION

SURFACE

DURATION

COSTS/SQUARE MT

ESTIMATED TOTAL COST

TOTAL COSTS

CRAFTSMEN SHOWROOM

GROUNDFLOOR

175

120 DAYS

€1.800,00

€ 216.000,00

300.000,00

ARTISTS SHOWROOM/KUNST HALLE

GROUNDFLOOR

550

240 DAYS

€ 1.700,00

€ 408.000,00

€ 900.000,00

COFFEE BAR

GROUNDFLOOR

200

120 DAYS

€ 2000,00

€ 240.000,00

€ 400.000,00

POLO DELLA CREATIVITà (CREATIVITY HUB)

MEZZANINE FLOOR

1.000

365 DAYS

€ 1.500,00

€ 547.000,00

€ 7.700.000,00

MUNICIPALITY GUESTS

III/IV FLOOR

600

240 DAYS

€ 1.800,00

€ 432.000,00

€ 1.000.000

AULA MAGNA

LECTURE HALL

GROUNDFLOOR

800

365 DAYS

€ 2.200,00

€ 803.000,00

€ 1.7000,00

CIVIC CENTER (WEDDING CEREMONIES, EVENTS)

GROUNDFLOOR

1.100

365 DAYS

€ 1.900,00

€ 693.500,00

€ 2.000.000